Digital Automatic Voltage Regulator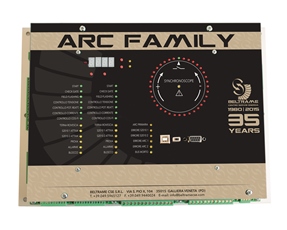 ARCFAMILY
Digital Voltage Regulator mod. ARC FAMILY
(suitable ONLY for static exciters)
The Digital Voltage Regulator ARC Family has been projected and realized by Beltrame CSE to meet the today's sophisticated operative needs very common in the Energy field. Thanks to the internal synchronization system, ARC Family allows to synchronize the alternator with the network or with others alternators. Ones in parallel mode, ARC Family can monitor and set the power factor or the reactive power. In case of alternators this function enables the energy production respecting the hourly rates in law. In case of engines it enables the absorption without any penalization.
ARC Family is easy to use and configure. It is possible to connect two units in parallel mode to grant the system hot back-up.
Through the NEW Beltrame firing device mod. S2010 the regulation/calibration is completely digital until the Thyristor's starting circuits.
Chiedi un'offerta