Digital Automatic Voltage Regulator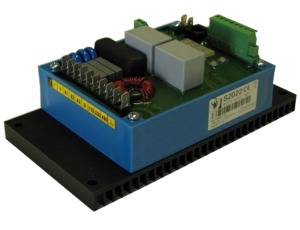 AVR S2022
Digital Voltage Regulator mod. S2022
Universal and compatible with: Basler Electric, ABB, Caterpillar and Leroy Somer.
It has four different control functions: Voltage Automatic Regulation (AVR), Current Regulation (FCR), Power factor regulation (PF), Reactive Power Regulation (VAR).
Max output current : 10A.
Max output tension: ≥ 250 Vdc
Max output current for 10 sec.: 20A.
Frequency range in the aux input:
0Hz ÷ 500Hz
Operating temperature: -40°C ÷ +80°C
Precision: ≥ 0,25%
S2022 satisfy completely the new edition of the CEI 0-16, CEI 0-21, allegato terna A70 norm.
Chiedi un'offerta

S2022 Data sheet

USER MANUAL S2022 REV 4

S2022 Connection diagrams